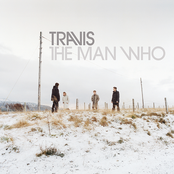 The majority of the album's songs were written before the band's debut album Good Feeling had even been released; "Writing to Reach You", "The Fear" and "Luv" were penned around 1995–96, while "As You Are", "Turn" and "She's So Strange" date back as far as 1993 and the early Glass Onion EP. The title The Man Who was derived from the book The Man Who Mistook His Wife for a Hat by neurologist Oliver Sacks. The album's sleeve notes include a dedication to film director Stanley Kubrick, who had died a few months prior to the album's release. .
---
---
"The Man Who" Album's Tracks/Singles
---
Other Albums by Travis
Other popular albums released by Travis.
---