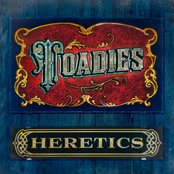 Heretics is the most recent album by the post-grunge band Toadies. It was released in September 2015 by independent record label Kirtland Records. The studio album "re-imagines and reinterprets" several of the band's previously released songs, including the band's most popular single, "Possum Kingdom". The album also features two new songs and a cover of Blondie's 1979 hit single Heart of Glass. .
---
---
"Heretics" Album's Tracks/Singles
---
Other Albums by Toadies
Other popular albums released by Toadies.
---