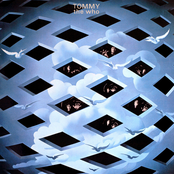 Tommy is the fourth album by the English rock band The Who, released by Track and Polydor in the United Kingdom and Decca and MCA in the United States. A double album telling a loose story about a "deaf, dumb, and blind boy" who becomes the leader of a messianic movement, Tommy was the first musical work to be billed overtly as a rock opera. Released in 1969, the album was mostly composed by guitarist Pete Townshend. In 1998 it was inducted into the Grammy Hall of Fame for "historical, artistic and significant" value. .
---
---
"Tommy" Album's Tracks/Singles
---
Other Albums by The Who
Other popular albums released by The Who.
---