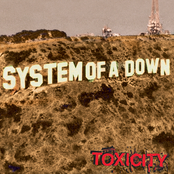 Toxicity is System of a Down's second album release. Produced by Rick Rubin, Toxicity was released on September 4, 2001 by American Recordings, debuting at #1 on both the United States and Canadian charts. Toxicity received mass critical acclaim, making many end-of-year "best of" lists (such as being named SPIN Magazine's #1 record of the year), and earning a Grammy nomination for lead single "Chop Suey!". The album has sold over 6.5 million copies worldwide and is multi-platinum in the United States. .
---
---
"Toxicity" Album's Tracks/Singles
---
Other Albums by System Of A Down
Other popular albums released by System Of A Down.
---