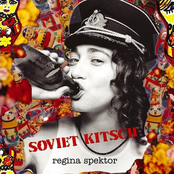 Soviet Kitsch is the major label debut and third album by American singer/songwriter Regina Spektor. The title is drawn from Milan Kundera's expression for the vacuous aesthetics of Stalinist-style 'communism', a theme in his book The Unbearable Lightness of Being. One version of the album was released with a bonus DVD, which included a short promotional film titled The Survival Guide to Soviet Kitsch and the music video for the song "Us". .
---
---
"Soviet Kitsch" Album's Tracks/Singles
---
Other Albums by Regina Spektor
Other popular albums released by Regina Spektor.
---