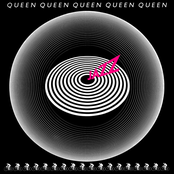 Jazz is a 1978 album by English rock band Queen. It was the band's seventh studio album, and comprises a number of different styles of music, including disco-funk ("Fun It"), vaudeville ("Dreamer's Ball"), hard rock ("Dead On Time") and a country-flavoured stomp ("Fat Bottomed Girls"). Curiously, it contains nothing recognisable as jazz, except perhaps the music-hall swing of "Dreamer's Ball". The album's eclecticism was alternately praised and criticised; .
---
---
"Jazz" Album's Tracks/Singles
---
Other Albums by Queen
Other popular albums released by Queen.
---