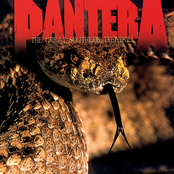 The Great Southern Trendkill is the eighth studio album by Pantera. It was released in May, 1996 through East West Records. It reached #4 on the Billboard Top 200 chart. The Great Southern Trendkill features some of the fastest tempos and most down-tuned guitars that the band ever recorded. It also has a more experimental nature to its songs, such as the acoustic guitar and keyboard-laden "Suicide Note Pt. I".Unlike Pantera's first three major label albums, the vocals are often double tracked and layered to create a more "demonic" effect. .
---
---
"The Great Southern Trendkill" Album's Tracks/Singles
---
Other Albums by Pantera
Other popular albums released by Pantera.
---