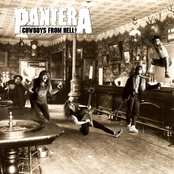 Cowboys from Hell is Pantera's fifth album and their first Atco Records album, released on July 24, 1990. This was their first commercially successful album, exposing the band's choppy rhythms and dissonant vocals to mainstream audiences for the first time. Cowboys from Hell is seen as Pantera's "official" debut by most fans, as well as the band itself as they left behind their glam metal past and began to exhibit a more groove metal-oriented sound. .
---
---
"Cowboys From Hell" Album's Tracks/Singles
---
Other Albums by Pantera
Other popular albums released by Pantera.
---