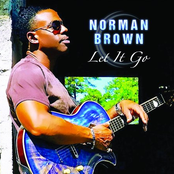 Let It Go, the title track is up next, and while it is a smoothed out track, the beginning is almost like a long interlude. About two minutes in, that guitar pace picks up a little. For me, this is his signature. The uptempo guitar playing over slower grooves. If anyone does that better, I cannot name them. If you want a rework of a classic, Ooh Child is here for you. Joining Brown on vocals is TrayCar, and if you need a new song to get some inspiration to start your day, this is a good candidate. .
---
---
"Let It Go" Album's Tracks/Singles
---
Other Albums by Norman Brown
Other popular albums released by Norman Brown.
---