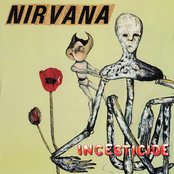 Incesticide is a compilation album by the American grunge band Nirvana. It was released on December 14, 1992 in Europe, and December 15, 1992 in the U.S. The album debuted at 51 and eventually reached number 39 in the Billboard Top 200. Artwork and packaging The Incesticide album art features a painting by Kurt Cobain on its front cover. Robert Fisher, Nirvana's graphic designer on all of the band's Geffen releases chose to credit the frontman as "Kurdt Kobain". Songs Six of the fifteen songs were unreleased at the time ("Hairspray Queen", "Aero Zeppelin", "Big Long Now", "Been A Son", .
---
---
"Incesticide" Album's Tracks/Singles
---
Other Albums by Nirvana
Other popular albums released by Nirvana.
---