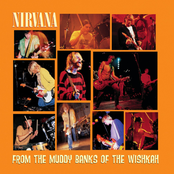 From The Muddy Banks Of The Wishkah is a compilation album of various live performances of some of the more popular songs up untill 1994. The earliest live performance on this album dating back to 1989. The album debuted at number one on the Billboard 200, selling nearly 159,000 copies in its first week of release. It spent 25 weeks on the chart and became the band's sixth platinum album since 1991. From the Muddy Banks of the Wishkah was the second .
---
---
"From The Muddy Banks Of The Wishkah" Album's Tracks/Singles
---
Other Albums by Nirvana
Other popular albums released by Nirvana.
---