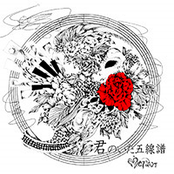 01. カクタス亜科 02. LOSERS'THEATER 03. 君のいた五線譜 君のいた五線譜 is the third single by Moran, it was released on November 12th 2008 via Speed-disk/XXX RECORDS. The single was released as an Limited Edition, CD+DVD including the PV of "君のいた五線譜". The single was printed in 3000 copies. .
---
---
"君のいた五線譜" Album's Tracks/Singles
---
Other Albums by Moran
Other popular albums released by Moran.
---