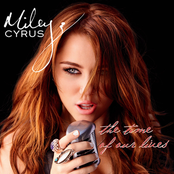 The Time of Our Lives is an EP released by Miley Cyrus. It was released exclusively to Wal-Mart on August 28, 2009 along with her clothing line with Max Azria. It was originally planned to be released on August 31, 2009, but due to confusion at Wal-Mart stores carrying the CD as well as her recently-launched fashion range, the album and clothing line were released together - three days earlier than it was intended. The EP features the smash hit "Party in the U. .
---
---
"The Time Of Our Lives" Album's Tracks/Singles
---
Other Albums by Miley Cyrus
Other popular albums released by Miley Cyrus.
---