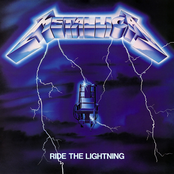 Ride The Lightning is the second album by thrash metal band Metallica. It was released on July 27, 1984 by Megaforce Records. It was re-released in the same year on November 19 by Elektra records. In the United States alone Ride The Lightning has sold over 5 million copies. Ride the Lightning is often hailed by fans as a classic of the thrash metal genre and a vital bridge between the band's albums Kill 'Em All and Master of Puppets, pushing the .
---
---
"Ride The Lightning" Album's Tracks/Singles
---
Other Albums by Metallica
Other popular albums released by Metallica.
---