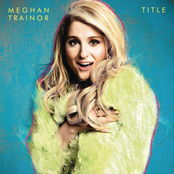 Title is the major-label debut studio album[1] by American singer-songwriter Meghan Trainor. Released on January 9, 2015, by Epic Records, the album replaced Trainor's 2014 EP of the same name on the iTunes Store. It was mainly written and composed by Trainor and Kevin Kadish, and produced by Kadish. Other collaborators on the album include Chris Gelbuda and Jesse Frasure, John Legend and Shy Carter. Musically, Title was inspired by Trainor's love for throwback style records, and the 1950s and 1960s eras in music. .
---
---
"Title" Album's Tracks/Singles
---
Other Albums by Meghan Trainor
Other popular albums released by Meghan Trainor.
---