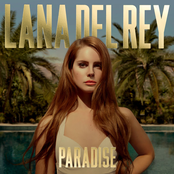 The success of Born to Die—coupled with a controversial Saturday Night Live appearance in which Lana Del Rey seemed to be in the grip of serious stage of fright—has led music fans to question what's real and what's carefully calibrated with the singer, hyped as a "gangster Nancy Sinatra" (redundant, actually). But this eight-track EP (really with nine tracks, counting with the iTunes exclusive bonus track "Burning Desire") should put qualms regarding Del Rey's talents to rest. .
---
---
"Paradise" Album's Tracks/Singles
---
Other Albums by Lana Del Rey
Other popular albums released by Lana Del Rey.
---