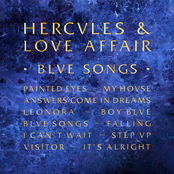 Blue Songs is the sophomore studio album by American electronic music band Hercules and Love Affair, released on January 28, 2011 by moshi moshi Records. Beside Andy Butler, it was produced by Mark Pistel and Patrick Pulsinger. Inspired mostly by 90's house sound, it was recorded in Vienna, New York, San Francisco and Berlin during 2009 - 2010. The album features guest appearances from Bloc Party's Kele Okereke on the song "Step Up" and also includes vocal contributions from Kim Ann Foxman, Aerea Negrot and Shaun Wright. .
---
---
"Blue Songs" Album's Tracks/Singles
---
Other Albums by Hercules And Love Affair
Other popular albums released by Hercules And Love Affair.
---