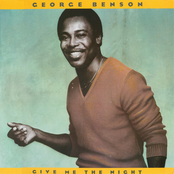 This is the peak of George Benson's courtship of the mass market -- a superbly crafted and performed pop album with a large supporting cast -- and wouldn't you know that Quincy Jones, the master catalyst, is the producer. Q's regular team, including the prolific songwriter Rod Temperton and the brilliant engineer Bruce Swedien, is in control, and Benson's voice, caught beautifully in the rich, floating sound, had never before been put to such versatile use. .
---
---
"Give Me The Night" Album's Tracks/Singles
---
Other Albums by George Benson
Other popular albums released by George Benson.
---