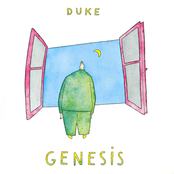 Duke is the tenth studio album by Genesis, and was released in March 1980. Duke became the trio's first UK #1 album, while broadening their US audience even further, reaching #11 there and going Gold immediately and eventually Platinum. Duke is regarded as a transitional Genesis album, incorporating both elements of dense and elaborate instrumentation associated with the band's 1970s era material and glimpses of their future 1980s pop melodies and hooks. .
---
---
"Duke" Album's Tracks/Singles
---
Other Albums by Genesis
Other popular albums released by Genesis.
---