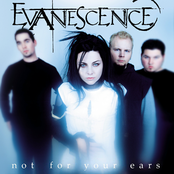 Unofficial and fake compilation of the 2001-2002 demos and Amy Lee's You. First released in 2003, it has been regarded as the original source of pre-fallen demo tracks (see Songs To Be Recorded For Fallen). The story went that Brad Caviness from bigwig had taken the songs from the studio and created these discs to sell online. This is not true. The tracks not on Songs To Be Recorded For Fallen were stolen and leaked somehow, but it is mostly unclear how it happened. .
---
---
"Not For Your Ears" Album's Tracks/Singles
---
Other Albums by Evanescence
Other popular albums released by Evanescence.
---