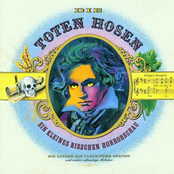 Ein kleines bißchen Horrorschau ("A little bit of horrorshow") (subtitled: Die Lieder aus Clockwork Orange und andere schmutzige Melodien ["The songs from Clockwork Orange and other dirty melodies"]) is the sixth LP by Die Toten Hosen, released in 1988. This is considered by the band as the best DTH album as of 1988. The LP is mainly a concept album based on the film A Clockwork Orange by Stanley Kubrick, which in turn is based on the book of the same name by Anthony Burgess, although not all of the songs are about the main theme. .
---
---
"Ein Kleines Bisschen Horrorschau" Album's Tracks/Singles
---
Other Albums by Die Toten Hosen
Other popular albums released by Die Toten Hosen.
---