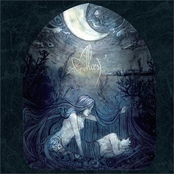 Écailles de Lune (English: Scales of Moon) is the second studio album by Alcest, released on March 29, 2010 by Prophecy Productions. All lyrics written by Neige except "Sur L'Océan Couleur De Fer" by Paul-Jean Toulet, all music composed by Neige except "Abysses" by Fursy Teyssier. Personnel: Neige - vocals, guitar, bass, synth Winterhalter - drums Fursy Teyssier - synth, etc., on "Abysses", artwork Markus Stock - recording Neb Xort - mixing, mastering .
---
---
"Ecailles De Lune" Album's Tracks/Singles
---
Other Albums by Alcest
Other popular albums released by Alcest.
---